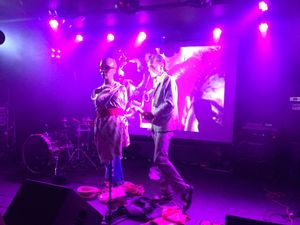 Bio
THE PINK DIAMOND REVUE 
''An audio-visual cinematic masterpiece more than just a live band, The Pink Diamond Revue symbolise the spirit of the Vapour Trail with their sexy electro-psychedelia. Fronted by a genuine mannequin. Surreal samples, stuttering guitars and renegade rhythms before hypnotic visuals all collaborate to create a world where Kraftwerk meet sex and you find love.''
The Vapour Trail October 2018
 The band have played over 300 live shows in the UK and Europe since forming in 2015
The Pink Diamond Revue  are a 3 Piece Electro/ Dance/ Psych band fronted by Acid Dol, a model from another dimension. 
 The bands live shows have had many different comparisons but most mention the bands ability to combine their music with the visual images they display behind them , to produce a show with a massive crossover appeal.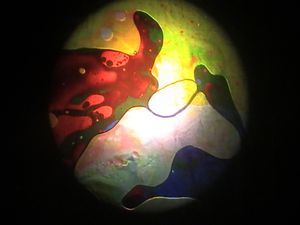 KANADIA / TEMPER CARTEL / THE PINK DIAMOND REVUE 
The Bullingdon Oxford 
With his slicked hair, unnerving gaze and tight-fitting suit, The Pink Diamond Revue frontman Tim Lane looks like the sort of bloke who ends uncomfortable conversations with a switchblade. Tonight, though, he channels any simmering discontent by continually harassing the legless mannequin on stage with him with his guitar, all the while crunching out relentless surfabilly dirges over the drummer's metronomic beats, washes of industrial synths and disembodied vocal samples. It sounds like Dick Dale, Kraftwerk and Ministry dropped a bunch of mushrooms together and invented Death In Vegas twenty years too early. It's simple, highly effective and brilliantly hypnotic. 
Dale Kattack NIGHTSHIFT MARCH 2017